Dr. Ashley MacInnes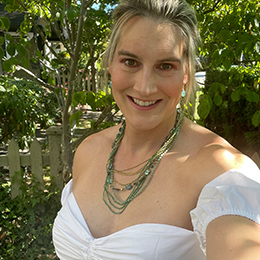 For those of you who are new to my practice I welcome you. For those of you who have been to see me before but are just checking out this biography I welcome you as well.  

You should always expect the highest level of service and when you come in, the visit is about you, and it is my job to deliver the best care possible. I really appreciate all of your patronage and I hope it continues.

Here are some common questions that can be answered before you come in, but I'm open to almost all questions other than the stated below as long as they're respectful and with good intention.

1.  When should I start addressing you as Ashley?
Moving forward you can address me as Ashley, Dr. MacInnes, or Dr. Ashley. Please, when referring to me, use she and her pronouns.

2.  Have I always known?
I have always had thoughts, dreams, and wishes, but never identified them completely. I blocked them out and repressed them until about a year ago.

3. What surgeries are you going to have?
I am generally quite open,  but this question is private and often somewhat invasive, and is often considered inappropriate to many transgender people. So thank you very much but I will keep this information to myself for now.

4. Is there anything I can do to help you feel more supported?
There is no need to feel you have to provide additional support while receiving care from me. I have excellent support from family and friends inside and outside of work, so I am very happy with how things are going. I am very happy at the moment and want only to focus on you while you are here under my care.

Please continue to read my bio below and I look forward to seeing you soon.
North Vancouver chiropractor, Dr. Ashley MacInnes, brings a wealth of experience in chiropractic, athletics, and parenting to her patients. Having grown up in the area, she has now been practicing for 19 years in her home-town. After attending SFU, UBC, and Université Laval, Dr. MacInnes graduated from Western States Chiropractic College (now Western States University) in Portland, Oregon in 1997.
Dr. MacInnes is actively involved in the community, as well as a local CrossFit competitor, practices martial arts, and can be found road cycling and mountain biking.
Her involvement in sports began with a successful career in downhill ski racing at the BC Ski Team level. She also competed in mountain biking and Tae Kwon Do. Dr. MacInnes holds a 2nd degree belt in Tae Kwon Do. She currently trains in Mixed Martial Arts and Jeet Kune Do. She also has extensive experience as the official chiropractor of the SFU Varsity teams – including football, soccer, track, basketball, wrestling, and softball. She has also been a part of a team of Chiropractors treating the BC Lions CFL Football team, and has been the chiropractor for numerous world-title holders in K-1 and Muay Thai and many up and coming mixed martial artists and kick-boxers and Jiu-Jitsu players.
She holds a full body certification in ART© (Active Release Techniques) and utilizes a variety of chiropractic techniques to suit an individual's needs. This includes Diversified, Thompson, Flexion-Distraction, SOT, and Motion Palpation chiropractic techniques. Dr. MacInnes focuses on full body biomechanics and dynamic function, and investigates the relation of various tissues – skeletal, muscular, nervous, or connective – to each other. The functional movements and coordination of these tissues systems are her greatest concern to optimum health and maximum quality of life of an individual. She focuses on exercise and sport management, rehabilitation, and recovery to maximize performance.  She focussing on biomechanics optimization through performance therapy - coordinating coaching and therapy seamlessly to benefit the participant/athlete as best as possible.
Having 5 kids of her own, she has an additional interest in treating pregnant women and young children. She also has a certification in the "Webster" technique – a technique that can very successfully release tension in the uterus of a pregnant woman – also very useful in a healthy delivery. She loves treating kids and introducing them to a healthy lifestyle. In fact, working with developing teens and young adults is a great area of importance in training these young people to develop good movement patterns for the rest of their lives.
Currently, in her spare time, she enjoys activities with her children, and enjoys continuing her martial arts training, road cycling, downhill mountain-biking, surfing, golfing, and skiing. She also enjoys going to the movies, and spending time with her kids.
---