Dr. Ashley MacInnes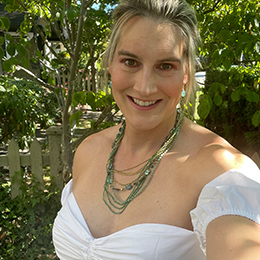 North Vancouver chiropractor, Dr. Ashley MacInnes, brings a wealth of experience in chiropractic, athletics, and parenting to effectively serve all her patients. Having grown up in the area, she has now been practicing for over 20 years in her home-town. After attending SFU, UBC, and Université Laval, Dr. MacInnes graduated from Western States Chiropractic College (now Western States University) in Portland, Oregon.

Dr. MacInnes is an avid sports enthusiast – practicing what she preaches.  Her involvement in sports began with a successful career in downhill ski racing at the BC Ski Team level. She also competed in mountain bike racing, track and field and Tae Kwon Do, in which she holds a 2nd degree black-belt. She actively participates in CrossFit, is an instructor and regularly white-water Kayaks, SUPs, is an avid road and mountain biker, surfs, plays volleyball, skateboards, skis, and snowshoes.

Dr. MacInnes currently works with Vancouver Wave Rugby, and is their lead medical practitioner.  She has extensive past experience as the official chiropractor of the SFU Varsity sports teams, was part of a team of Chiropractors treating the BC Lions CFL Football team, and has been the chiropractor for numerous world-title holders and fighters in K-1, Muay Thai, MMA, and Jiu-jitsu.

Dr. MacInnes holds a full body certification in ART© (Active Release Techniques) and utilizes a variety of chiropractic techniques to suit an individual's needs. This includes Diversified, Thompson, Flexion-Distraction, SOT, and Motion Palpation chiropractic techniques, as well as multiple different types of soft tissue techniques.
Dr. MacInnes subscribes to and is trained as a Performance Therapist.  This approach involves therapy given after significant communication between a coach, athlete and practitioner.  This trifecta, working together, greatly increases the effectiveness of both the athlete's treatment and training, and optimizes results. Looking at movement patterns while the athlete is performing, and working with the athlete and coach to make changes, or inputs to technique, training, therapy, or otherwise on a regular basis is a key element of success.
---