Registered Massage Therapist, (RMT Massage)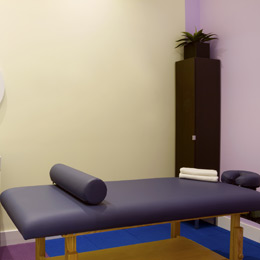 Registered Massage Therapists undergo thousands of hours of post-secondary education in order to provide an important contribution to the health care system. Far beyond rubbing muscles and spa treatments, Registered Massage Therapists properly evaluate and examine you for structural and functional issues, injury, and changes to the body. They employ a wide variety of techniques to affect skin, fascia (structural connective tissue), muscles, ligaments, tendons, and even joints.
Massage therapy has been found in scientific literature to be very beneficial for improving lymphatic flow, blood flow, elasticity and flexibility of muscles, and the overall relation of muscles to each other. Utilizing various myofascial releasing techniques, massage therapy can release nerve entrapments, muscular "trigger points" (knots in the muscles), and improve healing time to soft tissue structures that have been torn (strained) and have started to fill in with scar tissue.
Improved range of motion, faster return to activity, and improvement in function can be obtained through massage therapy. Many conditions are directly improved, such as:
Swelling and lack of lymph drainage
Muscle strains
Adhesions and scar tissue formation
Improve blood flow
Rotator cuff injuries
Muscle injuries
Running injuries such as IT Band syndrome, Plantar fasciitis and shin splints
Headache
TMJ syndrome and jaw pain
Tennis and golfer's elbow
Techniques and methods employed at Health Sciences Lab include; myofascial release, active stretch, friction massage, trigger point therapy, visceral manipulation, neural manipulation and lymphatic drainage. Our therapists can also spend time with you in our active rehab area to show you functional movement skills and ways you can make your strength training more effective and safe. See our massage therapists today and see how a registered massage therapist can compliment your other health care providers and provide the care you need.
---